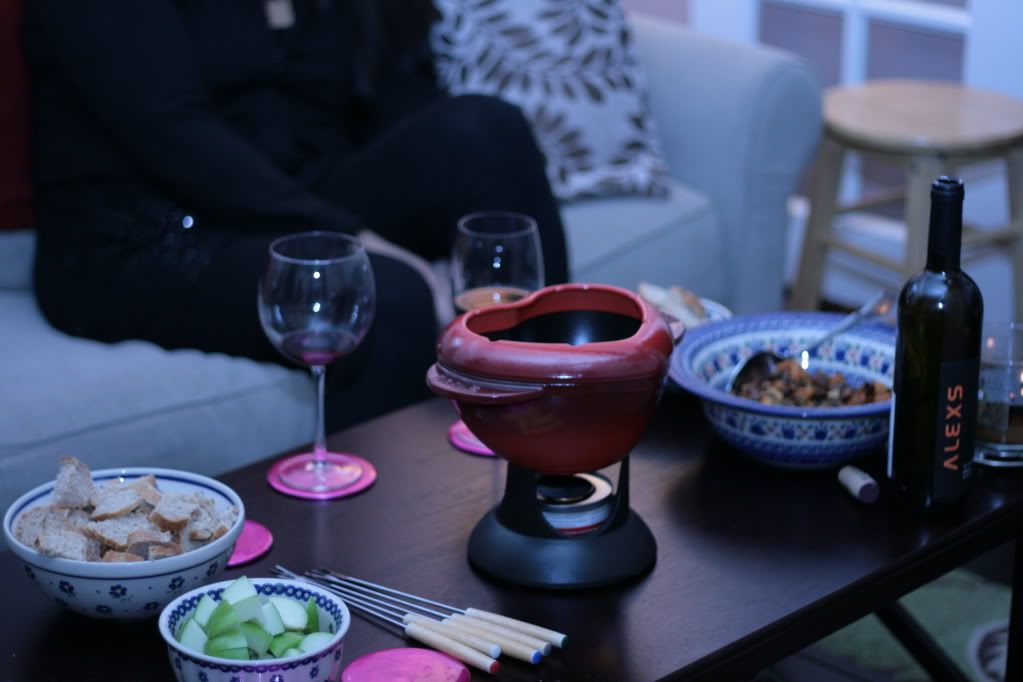 Well it was that time of year again. Time to put the ice cream maker into a deep freeze (ha - but not for long!) and pull out my fondue pot! So I hosted the first annual fondue pot winter inauguration for the Winter 2010 - 2011 season. Since this was kind of like opening night for my fondue pot, I neede a scene stealer! Something fancier than traditional gruyere. Well I love gruyere, but I think my normal fondue recipe needed something extra. Like MUSHROOMS!
I'll admit - the porcini mushrooms smelled kind of weird at first while they were soaking. But I guarantee you that the final addition to the fondue was not only fragrant but also a perfect complement to the cheeses I used. They added a nice chewy texture to the melty cheesey goodness.
What I especially liked about this was that it was more flavorful than just basic fondue (obviously), but I only had to add simple ingredients (mushrooms) as opposed to, say, fiery ingredients (adobo peppers) that not everyone's palate can handle.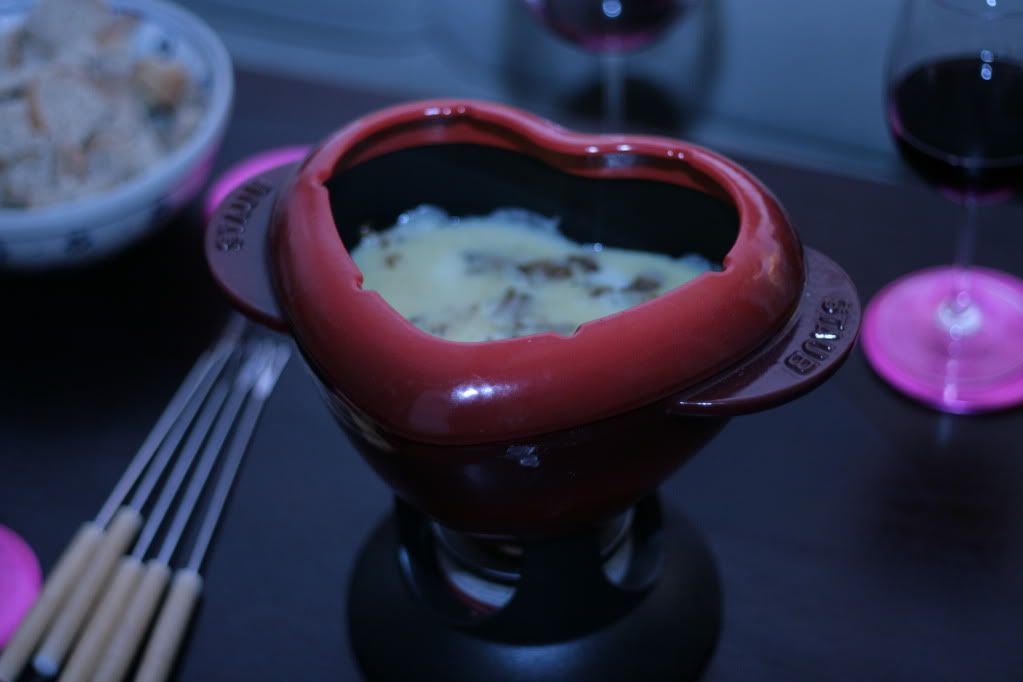 Porcini Fondue, adapted from
Bon Appetit
Serves 6 (or 5 girls who love melted cheese)
Ingredients
1 package of dried porcini mushrooms (about 1 ounce)
Hot water, enough to soak the mushrooms in
1 shallot, minced (original recipe uses garlic)
1 tablespoon plus 1 1/4 cup sauvignon blanc
2 tsp. cornstarch* I used way, way more than 2 tsp
8 ounces grated Gruyere cheese (about 2 cups)
8 ounces grated Emmenthal cheese (about 2 cups)
Loaf of bread of your preference
2 green apples, diced
Place the hot water in a medium sized bowl and add the mushrooms. Let them soak for about 30 minutes or until they are soft. Remove them from the bowl with a slotted spoon and chop them into pieces.
Transfer the soaking liquid into a skillet and add the shallots and the chopped mushrooms. Simmer over medium heat until all the liquid is absorped, approximately 4-10 minutes.
Mix 1 tablespoon of the wine with the cornstarch in a small bowl (for now, use the 2tsp. first). Then pour the remaining wine into a large saucepan and bring to a simmer over medium-high heat. Add the cheese by small handfuls, stirring with each addition, until it is all melted. Add the cornstarch mixture. Bring to a simmer. Stir until the fondue thickens* (at this point, you will want to eyeball how much more cornstarch to add. You know the consistencey of fondue by now, and that is what you are looking for).
Season to taste with salt and pepper.
Light your sterno and set up your fondue pot. Pour the cheese into the pot and serve!
I served it with a baguette and green apple wedges, accompanied by a butternut squash salad made by Lavina and sea salt caramel cookies made by Deb!
Here is the recipe for the sea salt and caramel cookies, if you want to try them for yourself!
Chocolate Caramel Cookies with Sea Salt,
recipe borrowed
here
Makes about 2 dozen cookies
Ingredients
1 1/4 cup all purpose flour
1/4 tsp. baking soda
1/4 tsp. salt
5 tbsp. butter
7 tbsp. unsweetened cocoa
2/3 cups granulated sugar
1/3 cup packed brown sugar
1/3 cup plain yogurt
1 tsp. vanilla extract
Soft Caramel, rolled into little balls
Sea Salt
Preheat the oven to 350 degrees and line 2 baking sheets with parchment paper/silpats/etc, lightly coating with cooking spray.
Spoon the flour into the measuring cup, leveling with a knife. Sift together the flour, baking soda and regular salt and set aside.
Melt the butter in a large saucepan over medium heat. Remove from the heat and stir in the cocoa powder and sugars (it will look like a coarse sand). Add the yogurt and the vanilla, stirring to combine. Then add the flour mixture from earlier, stirring until moist.
Take small sections of the dough (you might want to use a cookie scoop to get even sizes) and wrap the chocolate dough around the caramel candies. Place on a cookie sheet and sprinkle with the sea salt.
Bake for about 10-12 minutes or until almost set. Cool on the pans for a few minutes. Remove from the pan and cool on wire racks.
I did perch some bacon ice cream on top of one of these cookies - the bacon, sea salt and chocolate mix was delicious, in that savory way that I usually do not fancy all that much. So in short, the cookies were fantastic. Great work, Deb!