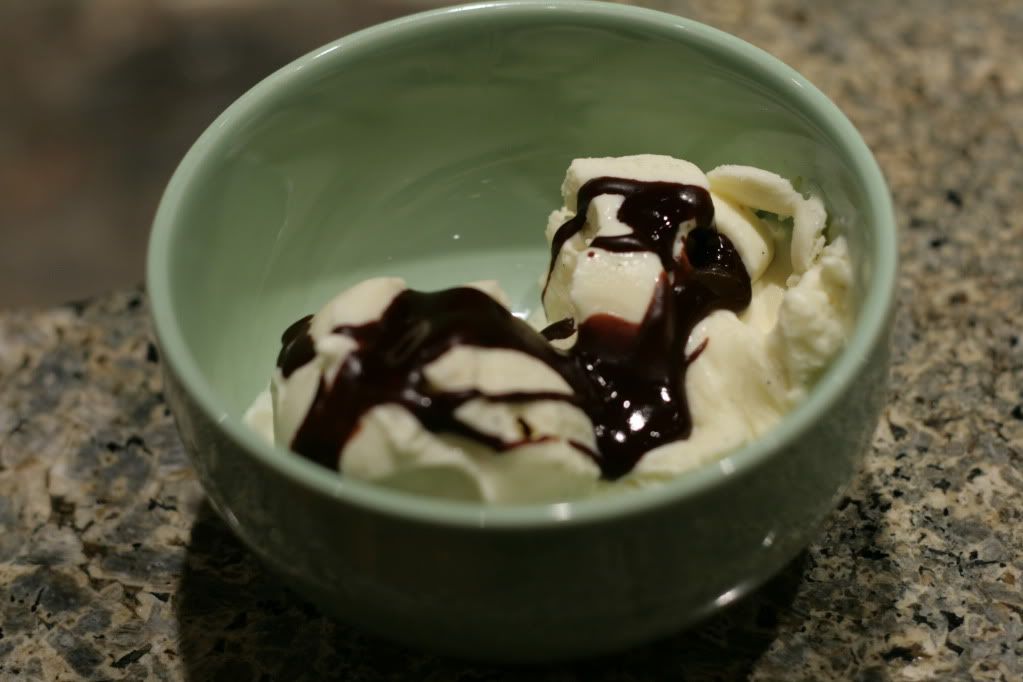 In my spare time, I search for ice cream recipes. Though I do love vanilla, I usually search for something more exciting. UNTIL I found a recipe through food and wine - I was intrigued because the recipe didn't use eggs but claimed to be fluffy and yum. I'm always game for trying something fluffy and yum.
Vanilla Ice Cream
, recipe from
Food & Wine
Serves Jyoti only and no one else
Ingredients
2 cups whole milk
1 tbsp. and 1 tsp. cornstarch
3 tbsp. softened cream cheese
1 1/4 cup heavy cream
2/3 cup sugar
1 1/2 tbsp. light corn syrup
1 vanilla bean, seeded and scraped
1/8 tsp. kosher salt
In a large bowl, prepare an ice bath. In a separate smaller bowl, mix 2 tbsp. of the whole milk and the cornstarch.
In another large bowl, whisk the cream cheese until smooth.
In a large saucepan, combine the remaining milk, heavy cream, sugar, light corn syrup and vanilla bean and seeds. Bring the mixture to a boil and cook over moderate heat until the sugar dissolves and the vanilla flavors the milk, about 4 minutes.
Turn off the heat and gradually whisk in the cornstarch mixture. Return to a boil and cook over moderate heat until the mixture slightly thickens, about 1-2 minutes.
Gradually whisk in the hot milk mixture into your whipped cream cheese, whisking to combine until smooth. Whisk in the salt. Set the bowl in the ice water bath for about 20 minutes (I left mine for about 30 minutes). I then put my mixture in the fridge to chill for about 30 minutes.
Pour the mixture into your chilled ice cream canister and churn for about 45 minutes.
Ending Notes: Um. BEST VANILLA ICE CREAM EVER! We've had my egg nog and sweet potato ice cream in our freezer since Thanksgiving, but this vanilla ice cream hardly lasted a few hours!
Sidenote: Apparently I hit my quota limit for photos and now have to upload through photobucket, which seems to really destroy image quality. I will find a solution to this, so in the meantime I apologize for the crappy looking pictures.