Becca jets to glamourous places such as Indiana and Dallas for work during the week. So when she is home during the weekend, we like to cook together. Since it was the holidays and we like cooking for people and eating, she invited Rachael, Michelle, Alyx and Nick. Well Alyx Nick and Becca live together, so they aren't really guests. The roomates also got a Christmas tree which we all helped trim in one way or the other (for example, I helped by eating the broken candy canes that could no longer serve as ornaments. old habits die hard.)
We happily chomped away on our holiday feast while sipping various red, white and sparkling wines (yes all three, just not at the same time). And if we couldn't get anymore holiday cheer-ier into our systems, we also watched Love Actually after dinner, which, if this isn't a feel good holiday movie, I don't know what is!
You can read about what everyone made
here
Becca and Alyx prepping the dishes
Nick chopping and dicing for his salad
Nick's salad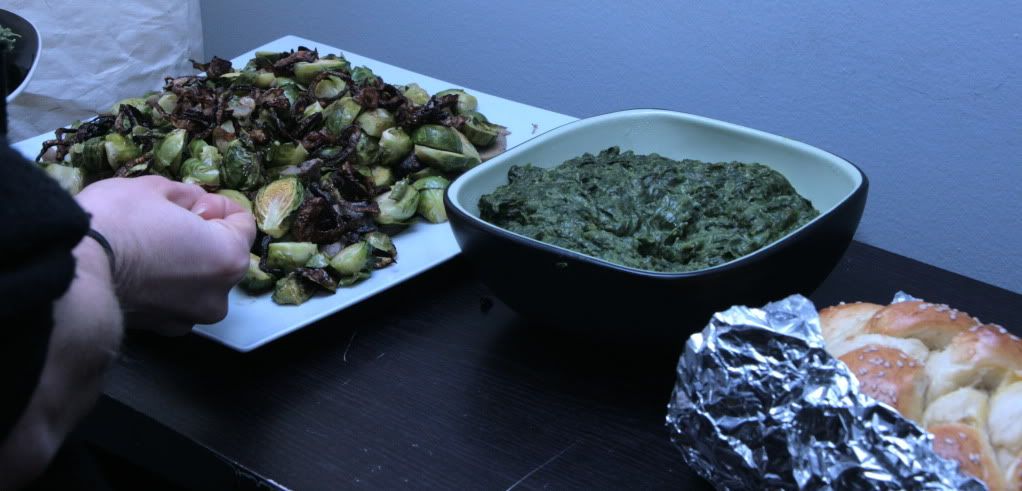 Chappy Challah-days!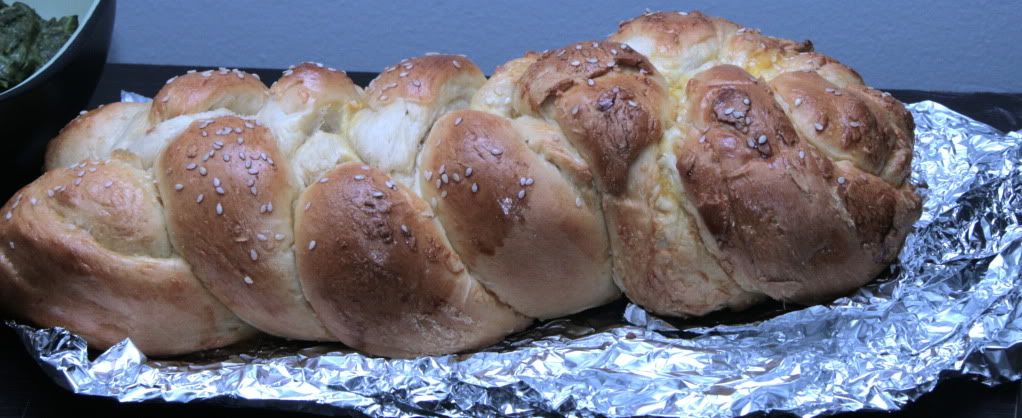 As Alyx mentions in her post, I made two kinds of candy cane/peppermint ice cream, a spiced cider sorbet, gingerbread and also brought along bacon ice cream. Most of these posts are a work-in-process, but I will provide the spiced cider sorbet and gingerbread recipe below.
Gingerbread and Trappist Ale Ice Cream,
borrowed from
Guerilla Ice Cream
Makes about 1 quart
Weird Time Constraints: You will need to chill this overnight
Ingredients
2 cups heavy cream
1 cup whole milk
1 2/3 cup trappist ale, divided. The recipe suggested Chimay, and the comments section of the post recommended Chimay Red, so this is what I used
5 tbsp. molasses
1-inch nub of ginger, peeled and sliced thin
4 short cinnamon sticks
5 whole cloves
3 star anise petals* (I did not have these and did not include them)
4 allspice berries* (I did not have this, I only had ground allspice, so I put in less than a tsp. of that)
2 cardamom pods
1/2 tsp. nutmeg (the recipe calls for freshly grated, but I only had ground nutmeg)
1/2 tsp. black peppercorns
6 large egg yolks
1/2 cup packed dark brown sugar
1/2 ounce dark chocolate, finely chopped
1 tsp. vanilla extract
Zest of half a lemon
1 1/2 tsp. kosher salt
1/2 cup candied ginger, minced* (I used less than a 1/2 cup - maybe 1/4 cup)
In a medium sized saucepan, combine the cream, milk, 1 1/3 cup of the ale, and molasses. Add the ginger, cinnamon, cloves, star anise, allspice, cardamom, nutmeg and black pepper to the saucepan. Heat over medium-low heat until it is just simmering, about 15 minutes, making sure you stir often.
In another bowl, whisk together the egg yolks and brown sugar until thoroughly combined. Add one ladle of the warmed cream mixture to this bowl, whisking all the while. Repeat a few times until the eggs are warmed and then return everything to the saucepan. Set the stovetop to a low flame - you want the mixture to simmer only slightly.
Cook, stirring frequently until thickened, 5-7 minutes. Add the chocolate, lemon zest, and the last 1/3 cup of the ale. You will know it is done when you insert a spoon/spatula, remove it, and run your finger down the back of it. If it creates a clear, thick line, the custard is ready to go. If not, keep stirring/cooking.
Chill in your fridge overnight. Churn per the directions of your ice cream maker (I think I let mine run for about 30 minutes). While the ice cream is churning, chop up some crystallized ginger (I did this in our faux food processor). Sprinkle these in the last 5 minutes of the churning process.
Spiced Apple Cider Sorbet,
borrowed from
here
Makes about 1 quart-ish
Ingredients
1 1/2 cups fresh apple cider
2/3 cup sugar
1 tsp. whole cloves
5 whole cinnamon sticks
1 1/2 cups unsweetened applesauce (I used the Whole Foods in house brand)
3/4 cups cranberry juice cocktail (100% fruit juice)
Juice of 1 lemon
2 tbsp. dark rum* (I only used 1 tbsp.)
Stir together apple cider, sugar, cloves and cinnamon sticks in a medium saucepan. Bring to a boil over medium heat, stirring occasionally. Simmer for about 15 minutes. Remove from heat. The recipe tells you to remove all the spices, but I let them infuse while I completed the next step.
Whisk in applesauce, fruit juices and rum. Cover and refridgerate overnight.
Churn in your ice cream maker - I let mine run for about 20 minutes. You can eat it right away, but the recipe recommends letting it "ripen" for a few hours before serving.
Ending Notes: Both of these flavors really invoked a sense of "THE HOLIDAYS ARE HERE"! The spiced apple sorbet was basically the frozen form of what you would drink at the ski chalet or in front of your crackling fireplace DVD (for those city-dwellers who don't have real fireplaces in their apartments). I'd like to credit Molly Moons for inspiring this flavor. The gingerbread ice cream was the perfect blend of winter spices, and the ale added an air of mystery - "it is kind of chocolatey...but I'm not quite sure what else is in this!"