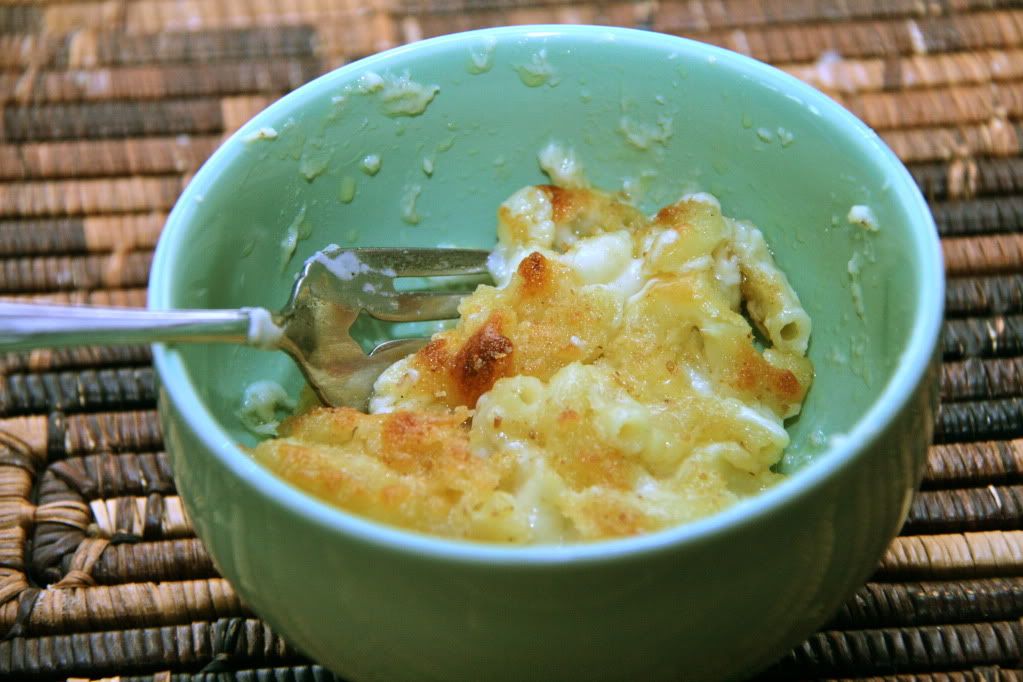 Over Thanksgiving break, I made my sister a Gossip Girl gift bag that I put together myself. It included a head band from Bendel's (channeling Blair), white truffle oil (channeling Serena), macarons (and Blair again) and...The New Brooklyn Cookbook (channeling the Humphrey clan + Vanessa). And apparently since then, this cook book is
the
cook book to have. See
here
and
here
.
Lo and behold from all the Thanksgiving cooking, baking, cookie party and ice cream making, we had a lot of heavy cream and whole milk left over. So of course mac and cheese was a logical recipe to make with all our left over ingredients.
I knew that book had to have SOME kind of mac n cheese! And it did. This particular recipe is from Dumont, which is somewhere in Billyburg.
My sister stirring up some roux before we put the cheese in.
Uhhhh...this dish was great. I love mac and cheese and usually try it whenever it is on the menu - and usually the dish is a fail. Too runny, not enough cheese, too oily, overwhelming, might give me cardiac arrest on the spot...I know this sounds like goldilocks, but the amount of cheese in this recipe was
just
right! The creaminess and texture was...yes you guessed it...
just
right. And my sister's roux came out fabulous. When I was her age, I was eating mac and cheese out of a blue box. I'm very impressed by my talented little sister. I'm fairly certain my entire family gobbled this up in less than 15 minutes. I'm sure even Cooper somehow got a bite.
What was more amazing is that my sister made it for me and all I had to do was taste test! Thanks sis!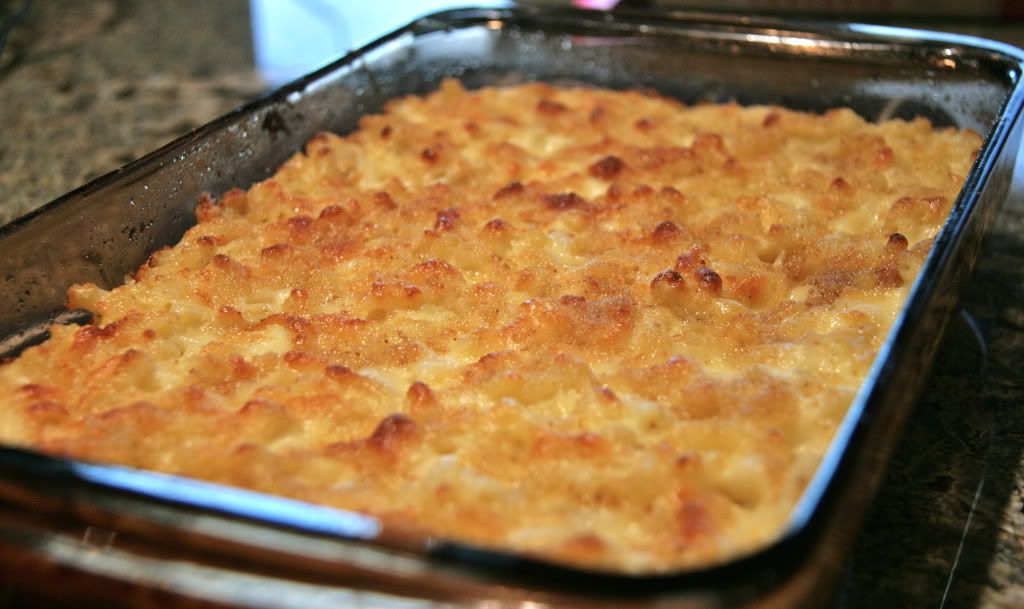 Dumac and Cheese, borrowed from The New Brooklyn Cookbook
Serves 6
Ingredients
1 pound (16 oz.) elbow macaroni (or you can use radiatore or fusilli)
2 tbsp. EVOO
2 cups whole milk
2 1/2 cups heavy cream
1 stick unsalted butter
1/2 cup all-purpose flour
1/2 pound Gruyere, grated and divided
1/2 pound sharp white cheddar, grated, divided
Coarse salt and freshly ground black pepper
1/4 cup unseasoned bread crumbs
Preheat the oven to 400 degrees.
Bring a large pot of salted water to a boil, and cook the pasta al dented, according to the package directions. Drain, toss with olive oil in a large bowl, and set aside to cool.
Combine the milk and cream in a medium saucepan over medium-low heat; bring to a gentle simmer.
Melt the butter in a large, heavy-bottomed pot over medium heat. Add the flour and whisk until the flour is fully incorporated and the mixture is smooth. Continue mixing with a wooden spoon until the mixture is a pale golden color, about 4 minutes. Slowly add the hot milk and cream mixture to the flour mixture (to make what you call a roux), whisking constantly to incorporate. Bring to a simmer, whisking occasionally to keep the mixture from burning. We added just a tad more warmed cream to this mixture as it wasn't liquidy enough.
Add half the gruyere and half the cheddar and whisk until the cheese has melted and the sauce is smooth. Season to taste with salt and pepper.
Add the cooked pasta and toss well to combine. Pour the pasta into a buttered baking dish (either a 9x13 baking dish, or a 3-quart gratin dish). Top with the remaining cheeses and sprinkle with the bread crumbs.
Bake for 20-25 minutes, or until golden and bubbly. Allow the dish to rest for 5 minutes before serving.
Ending notes: Seriously the best mac and cheese I have EVER had. It beat out ditch plains, which had been the new standard for mac and cheese in NYC. I've never been to Dumont, but now I want to go and try it out. This recipe is DEF a keeper. And next time, I might throw in some bacon or truffle oil even though the recipe says you really don't need all that jazz. Or maybe toast the breadcrumbs in rendered bacon fat.
I am very much so looking forward to going home and trying out the remaining 62-ish recipes in this book!