Fondue night with Kim! Since Fondue will be an on-going winter delicacy, I needed to find another recipe that was more, um,
sparkly,
than your basic emmental and gruyere. Yes, I have now decided that I am going to describe food as
sparkly
when it makes me feel the same way a pair of glittery pink
high heels
would.
Some fresh shiitake mushrooms. Did anyone ever read the Redwall Series by Brian Jacques? For some reason, mushrooms always remind me of that series. I think because its set in the forest and the main characters are all animals who maybe eat just mushrooms.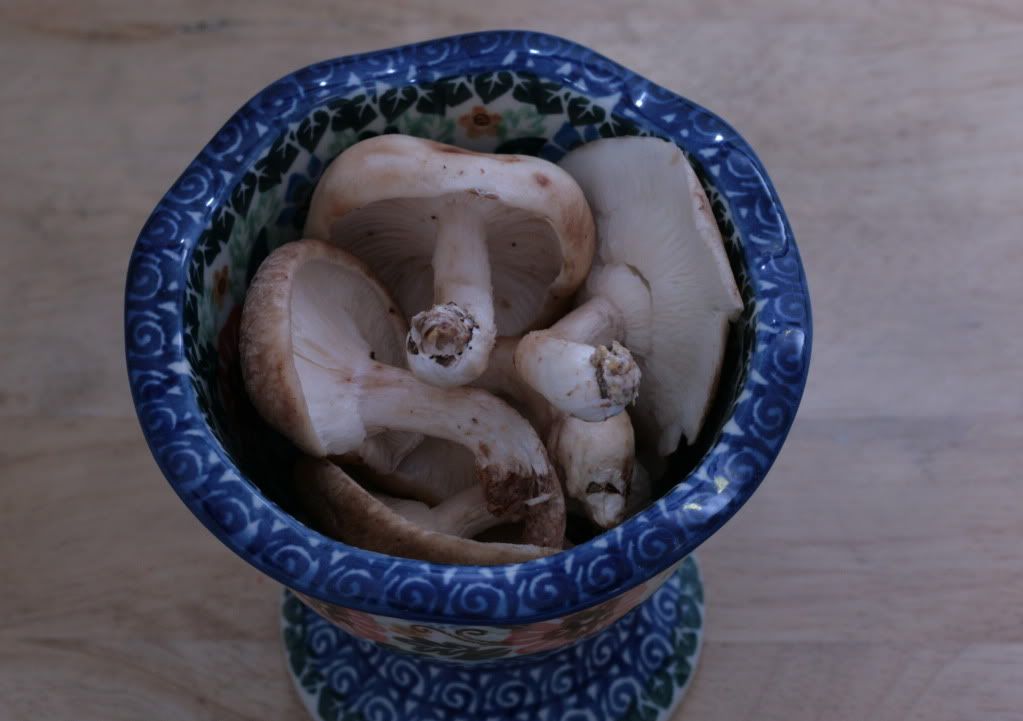 Browning the shiitake mushrooms and shallots. This smells woody, rich and foresty...mixed with the yummy smell of melted butter. I wanted to lick the pan but then I remembered it was on over medium-high heat. Oops.
I know this doesn't
look
appetizing but it smelled fabulous! Brie mixed with the wild mushrooms
Brie and Wild Mushroom Fondue,
borrowed from
Bon Appetit
Serves 4-6 (but I trimmed it down to serve 3)
Ingredients
1 cup water
1 ounce dried porcini mushrooms
2 tbsp. butter
8 ounce fresh shiitake mushrooms, stemmed and finely chopped
2 tbsp. chopped shallot
1 pound ripe brie cheese, well chilled, rind trimmed and cut into 1/2" pieces
2 tbsp. cornstarch* (again I used more)
1 cup dry wine
French or sourdough bread cut into bite sized pieces
Green apples cut into bite sized pieces
Bring 1 cup of water to boil in a medium saucepan. Add the porcini mushrooms. Remove from heat and let the mushrooms "steep" for about 20-30 minutes. Using a slotted spoon, remove the porcini mushrooms and chop. Reserve the water.
Melt the butter in a large saucepan over medium heat. Add shiitake mushrooms and saute till browned, approximately 3 minutes. Then add the shallots and saute for an additional minute or so. Add the porcini mushrooms and the soaking liquid. Increase the heat to high and cook until the liquid evaporates.
Toss the brie with the cornstarch to coat. Add wine to the mushrooms. Bring to a simmer over medium heat. Add cheese to the mushrooms in 3 batches, whisking each addition thoroughly until the cheese melts. Continue whisking until the mixture is smooth and just begins to simmer (do not boil!).
Light up a sterno to go underneath your fondue pot. Transfer the cheese to the fondue pot and DIP AWAY!
Ending Notes: Kim and I discussed how much we love mushrooms - so yes - we loved this one! I think I liked it even MORE than just the porcini mushroom fondue - the brie cheese was a unique touch compared to the fondues I usually make. And of course, not one, but TWO mushrooms made this really stand out!