I love winter squash. Especially butternut squash. I think the first time I had butternut squash was when I was visiting home during my sophomore year of college and went to the Seattle Asian Art Museum with my mom one weekday. We stopped at a cafe for lunch and I had the butternut squash soup and I was hooked. Fall is my favorite season, and the first thing I associate fall with is...you guessed it...butternut squash. So when I went home in October, I found the perfect recipe to try. Yeah, yeah, the post is really late. But I think you can still get butternut squash in some places!
The ingredient of honor, butternut squash.
*Instead of walnuts, we used pecans. Here they are, pre-toasting and sugaring
Prepping the butternut squash to go in the oven
Ready to feast!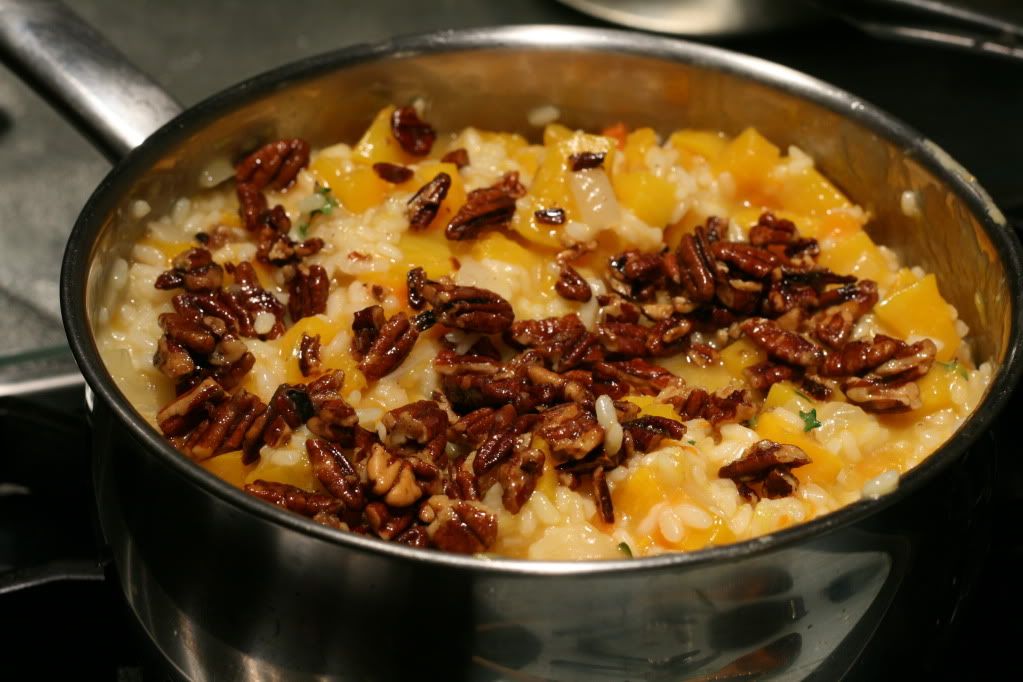 Roasted Butternut Squash Risotto with Sugared Walnuts, borrowed from
Cooking Light
Serves 8
Ingredients
1/2 cup coarsely chopped walnuts
1 tbsp. butter, melted
1 tsp. brown sugar
1/8 tsp. ground black pepper
2 cups cubed, peeled butternut squash
1 tbsp. olive oil
2 tsp. minced fresh garlic
4 1/2 cups water* (the original recipe called for 1/2 cup water and 4 cups low sodium chicken broth, but I used water instead)
1 cup finely chopped onion
1 1/4 cup uncooked arborio rice
1/2 cup chardonnay
1/2 tsp. grated lemon rind
1/4 tsp. salt
1/4 cup shaved parmigiano reggiano cheese
Preheat the oven to 400 degrees.
Arrange nuts in a single layer on a jelly roll (read: baking pan) pan. Bake at 400 degrees for about 5 minutes or until they are toasted, stirring slightly. Place the nuts in a bowl and drizzle the butter over it. Sprinkle with the sugar and 1/8 tsp. pepper and stir to coat.
Combine the squash and 1 tbsp. of the oil, tossing to coat. Arrange the squash in a single layer on a baking pan, and bake at 400 degrees for about 15 minutes (until the squash is tender). Remove from the pan and stir in the garlic.
Bring the water to a simmer in a saucepan (do not boil). Keep it warm over low heat.
Heat a large saucepan over medium heat. Add the onion and cook about 3 minutes, stirring occasionally. Add the rice and cook about 2 minutes, stirring constantly. Add the wine and cook for about 1 minute until the liquid is absorbed, stirring constantly. Add the water mixture, 1/2 cup at a time, until each portion is absorbed before adding the next portion (should take about 20 minutes total).
Stir in the squash, thyme, 1/4 tsp. salt, and 1/4 tsp. pepper. Top with the nuts and the cheese. cin cin!
Ending Notes: I don't know if maybe I'm just not a fan of risotto, or maybe I just don't like butternut squash when it is not in soup - but this dish was just okay. It was actually kind of bland. Blah! It was worth a shot, but I don't think I would try this recipe again. Maybe if I did, I'd throw some cayenne pepper in somewhere along the way.